In a few days, I will board a plane towards the south. My tour around Latin America starts. But I won't be alone in this adventure, you can find some other News Blog authors, like Jeff or Seb, speaking at AWS Community Days and local events in Peru, Argentina, Chile, and Uruguay. If you see us, come and say hi. We would love to meet you.
Last Week's Launches
Here are some launches that got my attention during the previous week.
AWS AppSync now supports JavaScript for all resolvers in GraphQL APIs – Last year, we announced that AppSync now supports JavaScript pipeline resolvers. And starting last week, developers can use JavaScript to write unit resolvers, pipeline resolvers, and AppSync functions that are run on the AppSync Javascript runtime.
AWS CodePipeline now supports GitLab – Now you can use your GitLab.com source repository to build, test, and deploy code changes using AWS CodePipeline, in addition to other providers like AWS CodeCommit, Bitbucket, GitHub.com, and GitHub Enterprise Server.
Amazon CloudWatch Agent adds support for OpenTelemetry traces and AWS X-Ray – With the new version of the agent you are now able to collect metrics, logs, and traces with a single agent, not only for CloudWatch but also for OpenTelemetry and AWS X-Ray. Simplifying the installation, configuration, and management of telemetry collection.
New instance types: Amazon EC2 M7a and Amazon EC2 Hpc7a – The new Amazon EC2 M7a is a general purpose instance type powered by 4th Gen AMD EPYC processor. In the announcement blog, you can find all the specifics for this instance type. The new Amazon EC2 Hpc7a instances are also powered by 4th Gen AMD EPYC processors. These instance types are optimized for high performance computing and Channy Yun wrote a blog post describing the different characteristics of the Amazon EC2 Hpc7a instance type.
AWS DeepRacer Educator Playbooks – Last week we introduced the AWS DeepRacer educator playblooks, these are a tool for educators to integrate foundational machine learning (ML) curriculum and labs into their classrooms. Educators can use these playbooks to easily upskill students in the basics of ML with autonomous vehicles.
For a full list of AWS announcements, be sure to keep an eye on the What's New at AWS page.
Other AWS News
Some other updates and news that you might have missed:
Guide for using AWS Lambda to process Apache Kafka Streams – Julian Wood just published the most complete guide you can find on how to use Lambda with Apache Kafka. If you are an Amazon Kinesis user, don't worry. We've got you covered with this video series where you will find similar topics.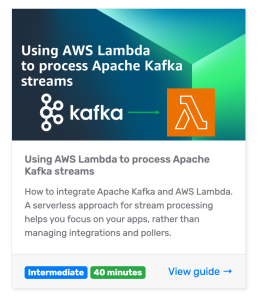 The Official AWS Podcast – Listen each week for updates on the latest AWS news and deep dives into exciting use cases. There are also official AWS podcasts in several languages. Check out the ones in French, German, Italian, and Spanish.
AWS Open-Source News and Updates – This is a newsletter curated by my colleague Ricardo to bring you the latest open source projects, posts, events, and more.
Upcoming AWS Events
Check your calendars and sign up for these AWS events:
AWS Hybrid Cloud & Edge Day (August 30) – Join a free-to-attend one-day virtual event to hear the latest hybrid cloud and edge computing trends, emerging technologies, and learn best practices from AWS leaders, customers, and industry analysts. To learn more, see the detail agenda and register now.
AWS Global Summits
– The 2023 AWS Summits season is almost ending with the last two in-person events in Mexico City (August 30) and Johannesburg (September 26).
AWS re:Invent

(November 27–December 1) – But don't worry because re:Invent season is coming closer. Join us to hear the latest from AWS, learn from experts, and connect with the global cloud community. Registration is now open.
AWS Community Days
– Join a community-led conference run by AWS user group leaders in your region:Taiwan (August 26), Aotearoa (September 6), Lebanon (September 9), Munich (September 14), Argentina (September 16), Spain (September 23), and Chile (September 30). Check all the upcoming AWS Community Days here.
CDK Day (September 29) – A community-led fully virtual event with tracks in English and in Spanish about CDK and related projects. Learn more in the website.
That's all for this week. Check back next Monday for another Week in Review!
This post is part of our Week in Review series. Check back each week for a quick roundup of interesting news and announcements from AWS!
— Marcia