Looks like it is my turn once again to write the AWS Weekly Roundup. I wrote and published the first one on April 16, 2012 — just 4,165 short day ago!
Last Week's Launches
Here are some of the launches that caught my eye last week:
R7iz Instances – Optimized for high CPU performance and designed for your memory-intensive workloads, these instances are powered by the fastest 4th Generation Intel Xeon Scalable-based (Sapphire Rapids) instances in the cloud. They are available in eight sizes, with 2 to 128 vCPUs and 16 to 1024 GiB of memory, along with generous allocations of network and EBS bandwidth:
| | | | | |
| --- | --- | --- | --- | --- |
| | vCPUs | Memory (GiB) | Network Bandwidth | EBS Bandwidth |
| r7iz.large | 2 | 16 | Up to 12.5 Gbps | Up to 10 Gbps |
| r7iz.xlarge | 4 | 32 | Up to 12.5 Gbps | Up to 10 Gbps |
| r7iz.2xlarge | 8 | 64 | Up to 12.5 Gbps | Up to 10 Gbps |
| r7iz.4xlarge | 16 | 128 | Up to 12.5 Gbps | Up to 10 Gbps |
| r7iz.8xlarge | 32 | 256 | 12.5 Gbps | 10 Gbps |
| r7iz.12xlarge | 48 | 384 | 25 Gbps | 19 Gbps |
| r7iz.16xlarge | 64 | 512 | 25 Gbps | 20 Gbps |
| r7iz.32xlarge | 128 | 1024 | 50 Gbps | 40 Gbps |
As Veliswa shared in her post, the R7iz instances also include four built-in accelerators, and are available in two AWS regions.
Amazon Connect APIs for View Resources – A new set of View APIs allows you to programmatically create and manage the view resources (UI templates) used in the step-by-step guides that are displayed in the agent's UI.
Daily Disbursements to Marketplace Sellers – Sellers can now set disbursement preferences and opt-in to receiving outstanding balances on a daily basis for increased flexibility, including the ability to match payments to existing accounting processes.
Enhanced Error Handling for AWS Step Functions – You can now construct detailed error messages in Step Functions Fail states, and you can set a maximum limit on retry intervals.
Amazon CloudWatch Logs RegEx Filtering – You can now use regular expressions in your Amazon CloudWatch Logs filter patterns. You can, for example, define a single filter that matches multiple IP subnets or HTTP status codes instead of having to use multiple filters, as was previously the case. Each filter pattern can have up to two regular expression patterns.
Amazon SageMaker – There's a new (and quick) Studio setup experience, support for Multi Model Endpoints for PyTorch, and the ability to use SageMaker's geospatial capabilities on GPU-based instances when using Notebooks.
X in Y – We launched existing services and instance types in new regions:
Other AWS News
Here are some other AWS updates and news:
AWS Fundamentals – The second edition of this awesome book, AWS for the Real World, Not for Certifications, is now available. In addition to more than 400 pages that cover 16 vital AWS services, each chapter includes a detailed and attractive infographic. Here's a small-scale sample: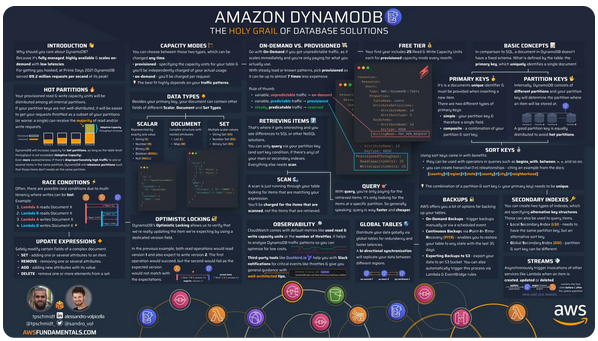 More posts from AWS blogs – Here are a few posts from some of the other AWS and cloud blogs that I follow:
Upcoming AWS Events
Check your calendars and sign up for these AWS events:
AWS End User Computing Innovation Day, Sept. 13 – The one-day virtual event is designed to help IT teams tasked with providing the tools employees need to do their jobs, especially in today's challenging times. Learn more.
AWS Global Summits, Sept. 26 – The last in-person AWS Summit will be held in Johannesburg on Sept. 26. You can also watch on-demand videos of the latest Summit events such as Berlin, Bogotá, Paris, Seoul, Sydney, Tel Aviv, and Washington DC in the AWS YouTube channels.
CDK Day, Sept. 29 – A community-led fully virtual event with tracks in English and Spanish about CDK and related projects. Learn more at the website.
AWS re:Invent, Nov. 27-Dec. 1 –

Ready to start planning your re:Invent? Browse the session catalog now. Join us to hear the latest from AWS, learn from experts, and connect with the global cloud community.
AWS Community Days, multiple dates
– Join a community-led conference run by AWS user group leaders in your region: Munich (Sept. 14), Argentina (Sept. 16), Spain (Sept. 23), Peru (Sept. 30), and Chile (Sept. 30). Visit the landing page to check out all the upcoming AWS Community Days.
You can browse all upcoming AWS-led in-person and virtual events, and developer-focused events such as AWS DevDay.
— Jeff;
This post is part of our Weekly Roundup series. Check back each week for a quick roundup of interesting news and announcements from AWS!